Quite some time passed since my last post. If you were wondering what I was doing in the meantime and why news took so long, read on.
After the successful testing in my last post, I wanted to try the whole thing on with an LCD. The problem with that was how to get one. Luckily my brother has an old Sony SDM-S71R with 17" which is not needed anymore. It's not really big, but for a first test it will do.
Disassembling the whole thing was quite easy, only the first part, getting the plastic casing off, was a bit tricky. If you are unsure how to do it, search online for 'Sony SDM-S71R Service Manual'. After removing some plastic and metal casing two circuit boards will be revealed. Both of them shown below:
This one is the power supply for both the electronics controlling the LCD and the four fluorescent tubes for the backlight. Since I do not want to use the original backlight I do not need the high voltage part. That made me look for some alternative to the power supply. The pinout of the connection to the lcd controller is described directly on the board and is shown below:
The purple, grey, white, and black cables on the right need not be connected. So there are only the +12V, +5V, and ground wires left. These voltages are also used in computers, so the choice was easy: I used the power supply of an old PC.
Next is the controller board: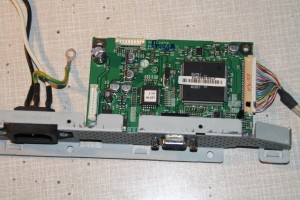 Nothing exciting here aside from the many wires on the right that go to the display itself.
The display consists of the LC layer on top of a glass plate and the backlight with some plastic films between them. Again some pictures of the parts ordered top-down:
These are the most important parts of the LCD. If you have any questions about the disassembly, just ask.
So much for the LCD disassembly. I've already done some testing with it in combination with a self-made backlight, some IR LEDs, and a bandpass filter for the camera. But this will be the topic of the next post,...